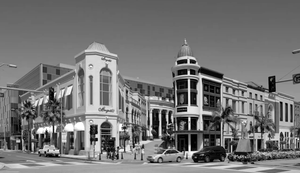 2022 is a special year for us. We celebrate 20 years since our founding in Milan, Italy. No where was a watch brand creating classic designs utilizing quality state of the art components that were also value driven and rich with color and personality. ... Now remember, this was a time before social media, e-commerce and luxury retail platforms. We built this brand on hours of global travel, traditional brick and mortar sales and good old fashion print advertising. With hard work, dedication and excitement came huge growth and by 2004 Ritmo was on the rise. Time served as well and we were afforded the reputation for bold, colorful and inspiring timepieces that have become recognized all over the world. We are constantly evolving, embracing trends and technology helping to lead and re-shape the watch industry. Join us on our journey as we celebrate our 20th anniversary in 2022!
Read more
Ritmo Mundo Founder: Ali Soltani-Mr. Soltani with International Football Star and Ritmo Brand Ambassador, Oscar

"The question I am asked daily is: 'why is everyone wearing this watch?' my reply, "it's fun, its cool, its young, and no matter your age you can see it!" ... It is not often that you meet someone 50+ who can speak in the past tense of successful careers as both a lawyers and as a Beverly Hills, Rodeo Drive store owner in addition to serving as elected President of the Beverly Hills Chamber of Commerce, being the father of five children, and creating a flourishing watch company in a world full of renown, decades old brands!

Raised in Beverly Hills, Mr. Soltani chose to remain in the Los Angeles area to attend local universities, UCLA, and Loyola Law School. After graduation, he began his legal tenure at Sulmeyer, Kupetz, Baumann, & Rothman where he specialized in bankruptcy and business law. Mr. Soltani parlayed his legal knowledge of business into hands-on experience with the purchase, along with his father and brother, of Beverly Hills stalwart retailer, David Orgell. In conjunction with his family, Ali Soltani provided the necessary leadership and direction to ensure the lucrative operation of the company.

As a successful retailer working day to day with both the various vendors and with the retail customer Mr. Soltani was aware of the marketplace and realized that there was room for a fun, colorful, and affordable watch. He also recognized that in today's world most people enjoy having watch options just as they maintain an assortment of clothing, shoes, and various other accessories. This concept of "watch wardrobing" is now hotter than ever.

As we celebrate our 20th year in 2022, we value our patrons first and foremost. Our brand DNA is our priority. We create cool timepieces that balance time instruments with our heritage in the entertainment and sports world.

Ali Soltani's passions for racing, soccer, and love has motivated him and his team over the past 20 years. With a micro-perspective, yet in touch with consumers globally, Ali has travelled to over 100 countries to build Ritmo Mundo into a pre-eminent niche-brand with tentacles not only in watches and jewelry, but in sports, architecture, and contemporary tastes.
Read more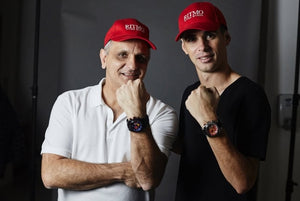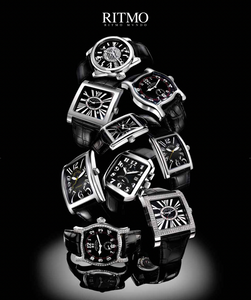 Mr. Soltani's International team oversee all elements of Ritmo Mundo from design to production. As a private company we have complete control over the process with the ability to quickly change out style or components without the delay of corporate approvals.... The Ritmo design DNA is thoughtful, industrial, oversized, colorful and unique. Working with a team of experts, watch designs are first hand sketched than brought to life through CAD and 3-D printing. Ritmo Mundo has and continues to be on the cutting edge sourcing unique materials such as carbon fiber and mixed metal combinations.

The Persepolis in 2006 was a stand alone timepiece. The vision was a case within a case that offered triple or dual time and dual date capabilities.
Our Puzzle watch design has a top sliding case with real working puzzle pieces that move to play a game. Combining sophisticated and technical designs into practical and functioning timepieces is both challenging and rewarding. Our Quantum watch cases utilize stainless steel and aluminum forged together and dials that are layered giving a unique dimension to our pieces. Come production time, each watch is assembled under the watchful eye of our team to ensure quality craftsmanship in each timepiece.
We offer corporate design studios that have over 20 years provided customized timepieces for individuals and entities looking to customize a timepiece. We have in the past created the Championship timepieces for the Indy Racing League; created personalized timepieces for Fortune 500 companies; and worked with the finest in sports and entertainment to market our watches.
Read more